BOOKING INFORMATION
Cost of Hunt Includes: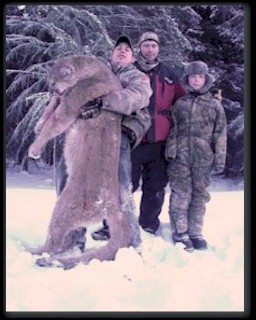 Pick up and drop off at nearest commercial airport.
Transportation (ATVís, 4X4 Trucks), accommodations and meals during hunt dates.
Field dressing and caping of trophy.
Accomodation:
Hunters will be staying in a cabin centralized in the hunting area.
Cabins are equipped with power and running water.
Cost of Hunt does not Include:
Tags and license. Click here for BC hunting regulations
Airfare.
Meat processing or shipping cost.
Taxidermy fees or shipping cost of cape or antlers.
Arrival or departure accommodations.
Terms of Booking:
$1000.00 US deposit required to book hunt (certified cheque or money order).
Hunt balance due as per date on contract (certified cheque or money order).
No refunds on hunts cancelled within 3 months of hunt date, unless a replacement hunter can be booked. Funds paid will be refunded if outfitter cancels hunt.
Liability and risk waiver on hunt contract to be signed with outfitter prior to hunt.
A suggested gear list is available after booking conformation.
Conduct Information:
All hunts will be conducted according to B.C. Wildlife Act and Code of Ethics as well as Fraser Valley Outfitters Rules and Guidelines.
Any hunter not following regulations or guide's legal instructions will have hunt terminated with no refund.
Any hunter not practicing safe handling of weapons or posing a threat to himself or others will have hunt terminated with no refund.
Any hunters found consuming alcohol or becoming intoxicated during hunt operations will have his hunt terminated with no refund.

Copyright © 2015, Fraser Valley Outfitters. All Rights Reserved.